The following organizations support All Dog Rescue by offering either free or discounted products and/or services for our foster dogs.
We ask that you support them and mention our name. Thank you!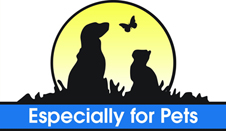 Especially for Pets
Especially for Pets has been a huge source of support to All Dog Rescue since our inception in 2003. We ask that you use them for your pet supplies and mention our name when you buy something at Especially for Pets. Click here for locations and directions.
All Dog Rescue has been chosen by Especially for Pets to partner in their program called Especially for Pets in the Community: The Adoption Initiative.